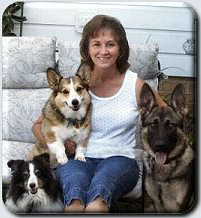 Born in California to a Navy family, Susan Kimmel has lived on the east coast for the past 30 years. Growing up under the influence of her artist mother, and among her many family pets, she has been drawing horses (her first love) since childhood.
Susan received a fine-arts degree, concentrated on raising children and began pursuing a full-time career as her children grew older. From what began as pet portraits in pen and ink for friends and alphabet monograms filled with animals for children, Susan's art evolved into an interest in three-dimensional mediums. These sculpted pieces manifest her love of animals. Clay began to take many forms, from exotic jungle creatures to cherished family pets as these whimsical beings came to life. Susan has a love and passion for all animals that she shares with her clients, and through her artwork, she has shown an ability to connect with the animal's personality.
Her animals always portray a sense of fun and abandon, as well as a quiet elegance. Personification is a key element in many of her works - you may see animals having a tea party, swinging on a porch swing, driving, riding a horse or even playing golf! Her artwork not only captures the beauty and humor of the animal world, but also showcases it on functional, serviceable pieces.

Her work has sold in nationwide venues, where they have found homes across the United States, as well as abroad.

Currently, Susan is living just south of Annapolis, Maryland with her husband, horse and Welsh Corgi.